Spooner secures tennis crown
By Gary Caffell gary.caffell@age.co.nz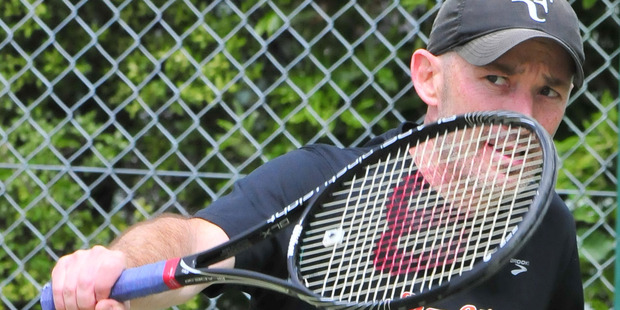 MATT Spooner picked up his sixth Wairarapa closed regional one men's singles tennis crown over the weekend.
That's an impressive achievement but the Carterton player still has a way to go to match the deeds of his late father Guy, who won the same title on no fewer than 13 occasions.
Matt Spooner's latest success came after wins over Bruce Lovell (Martinborough), brother Cory Spooner (Carterton) and, surprise finalist, Duncan Oakley (Opaki). Spooner beat Oakley by a relatively comfortable 6-3, 6-2 but that could not deter from Oakley's excellent effort to make the decider after earlier wins over second seed Chad Parson (Masterton) and third seed Chris Davidson (Opaki). The latter match was an absorbing three-set battle with Oakley eventually getting the upper hand.
The two Spooners, Matt and Cory, combined to win the regional one men's doubles final, accounting for Oakley and his Opaki clubmate Jon McNab in the final, 6-2, 6-2.
The new women's regional one women's singles title holder is Rhona Lovell of Martinborough who secured a straight-sets win over defending champion Karen Herrick (Carterton). As the score would suggest Lovell got off to a flier and won the first set comfortably. It was neck-and-neck in the second set until Lovell claimed the last two games to clinch the win. She has long been a standout player for Martinborough.
The father-and-daughter combination of Luke and Georgia Atkinson (Masterton) were a late entry for the regional one mixed doubles and were due to face Greytown duo David Heard and Belinda Cordwell in the final. Playing off for the regional two men's singles title were Lochie McNab and Croydon Hall.
Results from the regional one singles events:
Men's singles: Quarter-finals: Matt Spooner (Carterton) beat Bruce Lovell (Martinborough 6-0-6-1; Cory Spooner (Carterton) beat Andy Darling (Martinborough) 6-3, 6-0; Chris Davidson (Opaki) beat Jon McNab (Opaki) 6-2, 6-3; Duncan Oakley (Opaki) beat Chad Parson (Masterton) 6-3, 6-3. Semifinals: Matt Spooner beat Cory Spooner 6-0, 6-2, Oakley beat Davidson 6-4, 0-6, 7-5. Final: Matt Spooner beat Oakley 6-3, 6-2.
Women's singles: Karen Herrick (Carterton) beat Finola O'Boyle (Opaki) 6-1, 6-0; Rhona Lovell beat Herrick 6-2, 7-5.